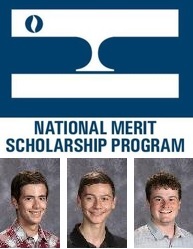 Three National Merit Scholarship Semifinalists
_
Thursday, September 14, 2017
For the first time in school history, WCHS is proud to announce that three students have qualified as semifinalists for the National Merit Scholarship program! Those students are Garrett Seawright, Trevor Speer, and Kevin Stucker.
This recognition places them in the top 1% nationally for academic achievement. About half of the semifinalist will receive a National Merit Scholarship.

Congratulations to Garrett, Trevor, and Kevin!