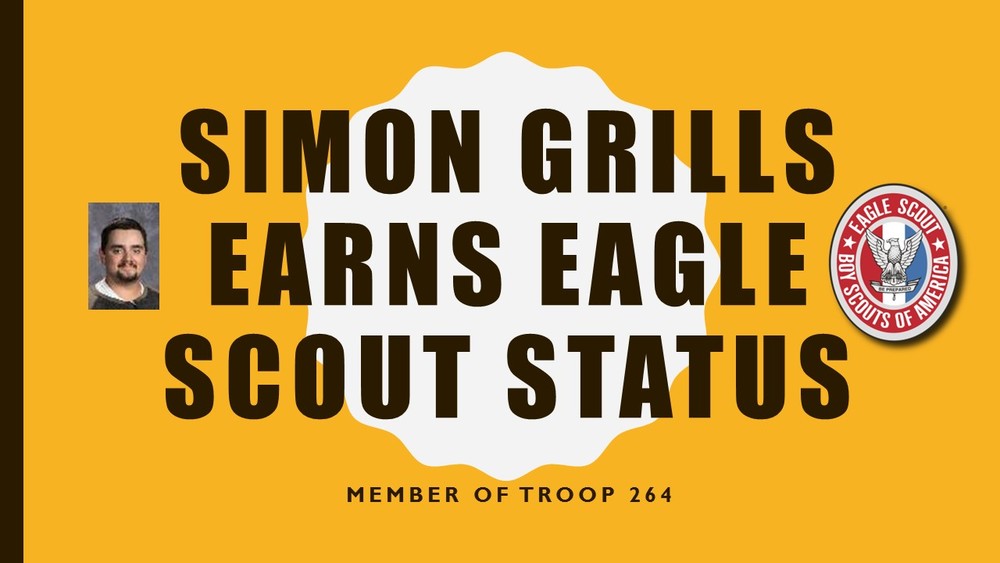 Grills Earns Eagle Scout Status
-
Monday, May 14, 2018
We are happy to announce that Simon Grills, member of Troop 264 in Greenwood, achieved the rank of Eagle Scout, Scouting's highest rank, on April 19, 2018.
Simon's Eagle project was to build three flag disposal boxes to be placed throughout his community. He did this by raising money through a car wash and a contribution from the local firefighters union. He then supervised the purchase of materials and the construction and painting by 11 adult and 13 youth volunteers. Together, under Simon's leadership, they spent nearly 205 man-hours completing the project.

Prior to turning 18, Simon served as senior patrol leader of Troop 264, as well as a patrol leader and chaplain's aide. He began his Scouting career as a Tiger Cub in 2006 and achieved the Arrow of Light, Cub Scouting's highest award. He is a member of the Order of the Arrow.

Simon's other activities have included FFA (chapter vice president, chapter secretary and district sentinel), SkillsUSA (chapter vice president), varsity golf and the youth ministry at Stones Crossing Church. After graduating from WCHS, he will attend Ivy Tech to pursue a career in automotive service technology.