NEWS
PTO News The Pizza Box Fundraiser will be from Jan. 15 – 22. The class that collects the most money wins a pizza party. WES Urban Air Spirit Night will be on January 29 at Urban Air in Franklin...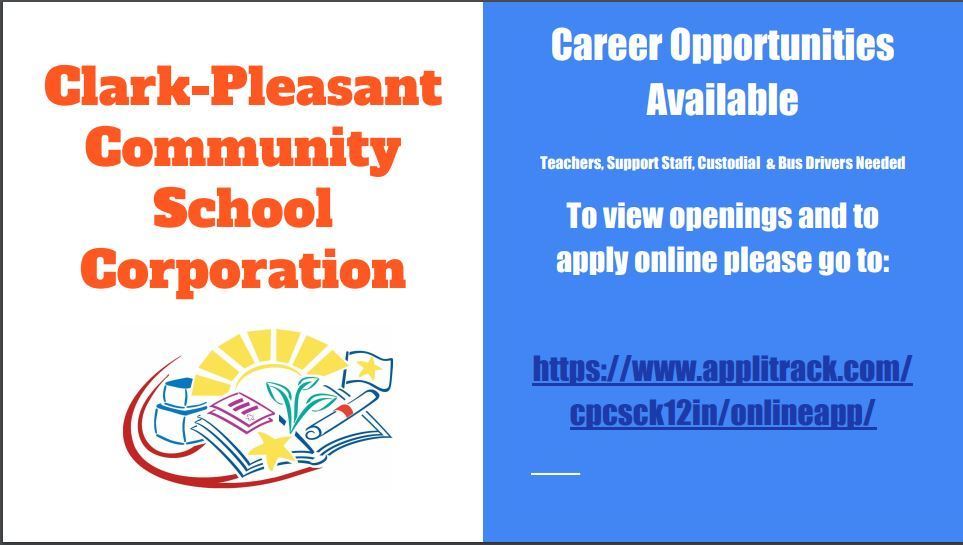 Clark-Pleasant School Corp. is proud to become a Safe Place at all of our schools...https://www.nationalsafeplace.org/
SEE ALL NEWS
ANNOUNCEMENTS
Reminder
Just a reminder that school is in session on Monday, Jan. 20th.
See you then!
4 days ago |
Clark-Pleasant Schools

On two-hour delay days:
Your child's bus will arrive close to two hours later than normal.
We do not serve breakfast on these days.
Arrival time: 10:55, tardy bell at 11:10.
If a two-hour delay occurs on a Wednesday, there will be no early release.
Travel safely!
about 1 month ago |
Whiteland Elementary School
Steps to Pay Book Rental Online:
1) Obtain your student's ID and fee
2) Click "Pay Book Rental" under Parent tab on your school's website
3) Log in and follow the prompts
Please contact your school treasurer with questions.
4 months ago |
Clark-Pleasant Schools
ParentVUE tip:
Want to be alerted when your child is absent or tardy?
1. Log into ParentVUE
2. Click "My Account"
3. Select "Attendance"
This also works from your iPhone app.
Thanks for all that you do for our schools!
5 months ago |
Clark-Pleasant Schools
SEE ALL POSTS
Events